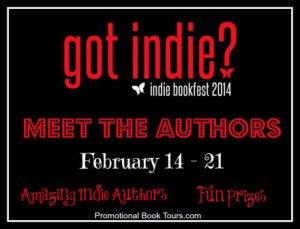 Hop around and Meet the Authors of Indie Book Fest 2014. Each stop features an author and a contest.

Welcome Tawdra Kandle! Author of the YA King series, contemporary romance The Posse, NA Best Served Cold, and her new book, Undeniable, a paranormal new adult novel.
Tell us a little bit about your book(s) and yourself. I am a writer, wife of one and mom of four (mother-in-law of one). I have one sweet puppy dog and five (yes, FIVE!) cats. I write romance, both contemporary and paranormal, in young adult, New Adult and adult genres.
When was your first book published? December, 2011
Why did you decide to become an Indie Author? I pursued traditional publishing for about a year, and while I did receive some encouragement, I eventually decided it was not something I wanted to continue to do. Thanks to the support of a dear friend, I took the leap into indie.
Are you currently working on anything? Always. I'm working on the second book in the Serendipity Duet, UNQUENCHABLE, and I'm working on JUST DESSERTS, the second book in the Perfect Dish Duo. I've also begun a little bit of my upcoming adult paramystery series, Recipe for Death.
Who and what inspired you to write? Everything I see, and always, the question. . .what if?
Each author has his or her own inspiring journey. How did you begin writing? I wrote my entire life. I don't remember not writing. When I was in middle school, I had a short story published in a magazine. And then there was a little gap. . .okay, about thirty years. . .before I finished my first full-length novel. In between time, though, I did write several short stories, one of which one an award.
What is on your writing playlist for your book(s)? I am as eclectic a music lover as I am a reader. I listen to alt rock, oldies, eighties music, country, classical and even disco. . .it depends on the book and the characters.
Who is your favorite character in your books? I used to say it was Nell, and she is still a favorite. I'm beginning to think it may be Cathryn. She has appeared in The King Series, both of my shorts, The Serendipity Duet and will be in the Recipe for Death series. Girl gets around!
What is your favorite book of all time? The impossible question. Okay, the one I read most often is probably Celia Garth by Gwen Bristow, though I have several others that are a very close second.
Tell us in one sentence why we should read your books. My books will whisk you away from your day-to-day life into a world of strong women, sexy men and the adventures they share.